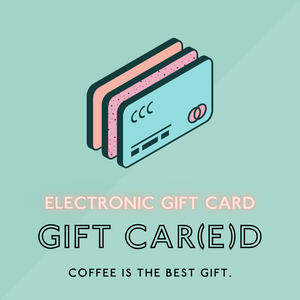 The Artery Community Roasters
Gift Car(e)d
Regular price
$25.00
$0.00
Unit price
per
What better way to tell someone "hey, I appreciate you!", than gifting them a gift card to buy some of the most ethically sourced, roasted beans around? 
People sometimes feel guilty about gifting gift cards, but you shouldn't. Trust us, they much rather have a gift card to our coffee than whatever ugly sweater you were going to buy them.
Just get them a gift card, we can email it, Bob's your uncle (imagine living in a world where you actually had an uncle named Bob, what a dream). And if you do have an uncle Bob, buy them some dang gift cards. They did, after all, give you the priceless gift of being able to reply, "well, Bob is actually my uncle".
Gift cards start at 10 and don't expire. They can only be used on our web shop (not retailers). It will be e-mailed to the recipient. If you don't receive the Gift Card in your inbox, check your SPAM folder. 
A portion of all sales is donated to our partners at ABLE2. 
Read more...
Perfect and easy gift!
It was super simple to order a giftcard online and send it to a friend.
The coffee is always delicious and it makes it the perfect gift!
---